Beer Tasting: Quick Reference Guide
Listed by Members of Beer Passions
Calling All Readers! Like The Site Library?
Help Spread The Word...Tweet Our Crazy Awesome Awesomeness!
Sponsored Ad
go back to library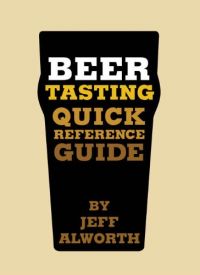 (click to view book on amazon.com)



Jeff Alworth


Here s a fun way to discover the nuances of artisan beers from lagers and ales to porters and stouts. Tasting profiles from the booklet get the ball rolling they break down beer into style categories and include information on each variety s background, flavors, aromas, and unique character. Cover the bottles with the paper sleeves to conduct blind tastings, and record tasting notes a world of beer awaits!




People who list this book:



go back to library
Recommended Beer Sites
Beer Reviews
Beer Information Sites
Goin' Out!
Home Brewing
Online Dating Sites
Connect
MicroBrews
Webcam Sites
Personals / Chat Sites
Funny Sites